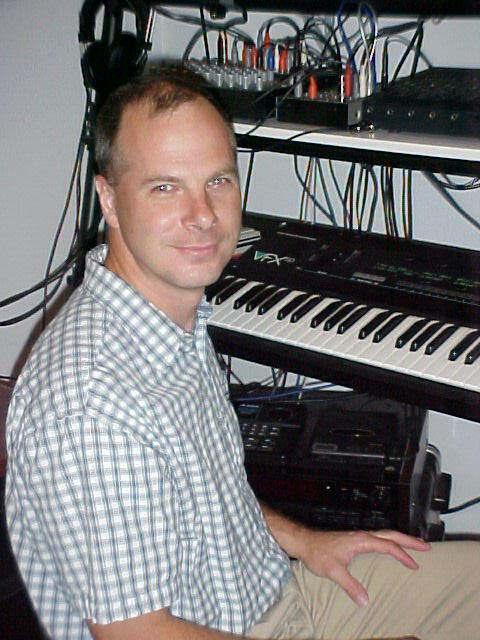 Stephen Brannen's musical background is diverse - covering many styles
such as country, folk, bluegrass, jazz, rock, blues, gospel, Broadway, and classical. He has studied music theory and composition, and has a bachelorís degree in Recording Industry Production and Technology from Middle Tennessee State University. Although Stephen has played many instruments since first learning the piano at the age of eight, his favorite instruments are those with strings. He is an extremely gifted and versatile guitarist who is always in demand. More than a guitarist, he is a talented composer and producer.

Stephen recorded his first album entitled "Songs of the South" in the Spring of 2000. This album is an instrumental album featuring acoustic guitar, hammered dulcimer, mandolin and banjo. The album is available at www.musicmill.com in the instrumental section.

As a parent of two young daughters, and the husband of a dance teacher, Stephen is very familiar with children's dance music. He now enjoys applying his musical talents to the creation of
our music for young dancers.

Stephen lives in Colorado Springs, CO with his family, where he is guitarist for the United States Air Force Band. In his spare time, Stephen enjoys spending time with his family, riding bicycles and leading worship at church.
We are so happy to have Stephen making music for us here at Danc'eM. You can hear some of his great toddler music by clicking HERE. (mp3 files available). This great toddler music is sold separately on CDs, and in the Year Long Toddler Program. You can also hear Stephen on our wonderful Ballet Volumes 1,2 and 3. to hear this music click HERE
Stephen also created a new Beginning Ballet CD for dancers ages 5-8. This CD uses props on 5 of the 8 selections. To hear music from this ballet CD click HERE.
Our Pre-Tap and Tap Two are creations of Stephen. Click here to hear them